10/28/2011
Career Practitioner Supervision Training
Training opportunities available in June - Apply Now!
Training in clinical supervision for career counselors and other practitioners
NCDA periodically offers a 45-hour Training in Clinical Supervision for Career Counselors and Other Practitioners. This training is for those individuals interested in clinical supervision of career development practitioners. Participants must commit to attending the full training (23 hours over a 3 day period) plus complete 22 additional hours of practicum work submitting assignments and video-recordings via e-mail or other electronic methods.


Applications for the 2018 Supervision Training are now being accepted.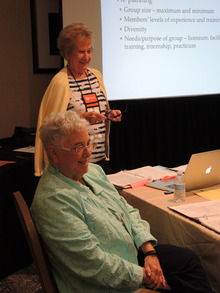 This will be hosted as a pre-conference activity before the 2018 NCDA Global Career Development Conference in Phoenix, Arizona. Complete details are provided in the application. The review of applications will continue until all slots are filled.
Training Schedule:
Mon, June 18, 2018: 9:00 am - 5:00 pm (7 hours)
Tue, June 19, 2018: 8:00 am – 5:00 pm (8 hours)
Wed, June 20, 2018: 8:00 am – 5:00 pm (8 hours)
Location: Hyatt Regency Phoenix (site of NCDA Conference)
Trainers: Judith Hoppin and Jane Goodman
CEUs and Credentialing:
Each participant will receive 45 hours of continuing education contact hours and an NCDA completion certificate. This course will satisfy the maximum current training portion for eligibility for State and other credentialing bodies in clinical supervision. Participants will have opportunities to practice strategies with feedback, work with case studies and learn how to transition from a practitioner or administrator to the role of clinical supervisor.
Class size is limited to 20 so apply now! Complete details are provided in the application.
---