112th Annual ECA Convention
Resilience
Virtual Convention
Wednesday, March 24 – Sunday, March 28, 2021
---
Begin the conversation about your research, trip, or experience on
ECA's Facebook and Twitter!
Basic Course Conference 2021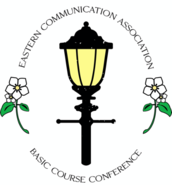 The ECA Basic Course Conference Director is seeking your input on topic areas you'd be interested in learning more about for the biannual Basic Course Conference. ECA 2021 will be held in Cambridge, MA March 24-28, 2021. Our theme is Resilience. The Basic Course Conference will be held on Wednesday March 24, 2021.
In place of a call for submissions, we are issuing a call for ideas. We'd like your input on topics and/or ideas that you'd like to see programmed for the day long Basic Course Conference. We invite you to take 3 minutes to complete the attached survey that asks for your ideas and potential presenters.
Please access the survey here: CALL FOR IDEAS
Thank you for your input!
Dawn Pfeifer Reitz, 2021 Basic Course Conference Director
Assistant Teaching Professor | CAS 100 Coordinator
Penn State University, Berks College
Dpr15@psu.edu
O: 610.396.6404
Jane Pierce Saulnier, 2021 Basic Course Conference Assistant Director
Associate Chair, Director of CC100 and the Speech Lab
Emerson College
jane_pierce_saulnier@emerson.edu