11/01/2022
57th Annual Poetry and Art Contest: Career Development Around the World
By Kymmie Cartledge
Each November, the National Career Development Association (NCDA) promotes career development through its annual celebration of National Career Development Month. NCDA, as well as state career development associations, celebrate with career development activities throughout the month and in particular on National Career Development Day.

November 2022 is National Career Development Month.
November 14-18 is National Career Development Week.
November 16 is National Career Development Day.
NCDA is celebrating in a special way this year by hosting a virtual event: "Celebrating National Career Development Month: Career Coaching Fundamentals, Applications & Future Directions". Four hours of live presentations will cover the most significant topics in the realm of career coaching. Presented by experts in the field, this celebration offers four CEs and access to additional videos that showcase professional development across NCDA. Registration is required and closes November 13th.
The National Career Development Month Committee invites everyone to participate in the 57th Annual Poetry and Art Contest. This year, the theme is Career Development Around the World: Making Connections and Increasing Access to Impact the Global Labor Market. Participants are challenged to consider how their career path could impact our global society.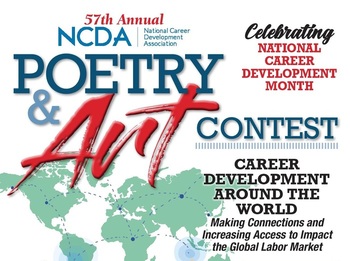 Every adult and student enrolled in public, private and parochial schools in states with participating NCDA state divisions is eligible, as well as adult career development professionals. Contest divisions areas include:
Primary - grades K-2
Intermediate - grades 3-5
Middle - grades 6-8
Senior - grades 9-12
Adult Student - ages 18 and older, enrolled in school
Open Adult - ages 18 and older, not enrolled in school
Career development practitioners are highly encouraged to enter into the adult divisions. You and your ideas are valuable and worth celebrating! Complete contest details can be found in the downloadable brochure.

Once again the National Career Development Month committee will use an online submission format for both poetry and art submissions. State career development association coordinators will submit winning entries from their state contest electronically to NCDA, while individuals without a state coordinator will submit directly to NCDA using the Individual Submission form linked in the brochure. (View the list of state coordinators here.)

The winning entries for each division will be recognized and displayed on the NCDA website in May 2023, particularly in an article in the NCDA web magazine, Career Convergence, which is distributed to over 20,000 emails each month. Winners also receive recognition during the NCDA Global Career Development Conference to be held in Chicago, Illinois June 26 – June 28, 2023.

More ways to celebrate National Career Development Month are listed on the contest webpage, including a list of ways others have celebrated this special month. For example, some school districts host dress for success events, while others offer a conference for guidance counselors.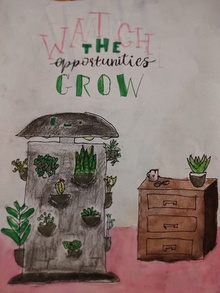 View previous contest winning entries and get inspired to create your own celebration.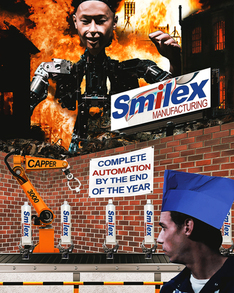 If you have questions about NCD Month or the Poetry & Art contest feel free to reach out to NCD Month Chair Kymmie Cartledge (kcartledge@lexington1.net). Celebrating our field should be an everyday occurrence, and is most important every November – National Career Development Month!
---

Kymmie Cartledge, M.Ed. CCSP, GCDF, is a district career specialist for Lexington County School District One (Lexington, SC) where she is the middle school career specialist liaison and a dual enrollment instructor for The College Center. Kymmie is also the owner of Glitter, Glue, and Goals®, a mobile vision board service designed to help individuals create a VISION they can VIBE to. She serves as a co-chair of the NCD Month Committee. Kymmie can be reached at kcartledge@lexington1.net and via Linkedin www.linkedin.com/in/kymmie-cartledge.
---