08/01/2022
Professional Development Your Time, Your Way
How do you prefer to pursue professional development? NCDA aims to support those in the field of career development with options for ease of obtaining knowledge as well as credit for continuing education. Optional delivery platforms include video, print, podcast, and more! Read a few below and then celebrate with those who have been recognized for their expertise – the 2022 NCDA Award Winners!
NCDA Webinar Series
NCDA presents several webinars each year on topics of deep significance to members and those involved in the field of career development. Watching previously presented NCDA webinars offers a convenient way to earn CEs (at a low fee of $35 for 1 contact hour). The Webinar Package offers CEs for watching a set of webinars at a discounted price. Watch 1, 2, or 3 webinars, then click on the link to register for CEs and obtain a discount on the purchase of your CEs.
A new webinar is scheduled for August 23, 2022: "Tried and True or Something New: A Panel Discussion Facilitated by Courtney Warnsman." Panel members include: Monique C. Johnson, Brandi R. Muñoz, Jim Peacock, and Karol Taylor. The panelists will share their favorite go-to career resources. There will be something for everyone including assessments, administrative/organizational tools, federal job search sources on social media, and DEI resources. Participants will benefit from reminders of different ways to use the "tried and true" as well as to learn "something new".
To register for this upcoming webinar or gain more information about any NCDA webinar, visit Professional Development: Webinars.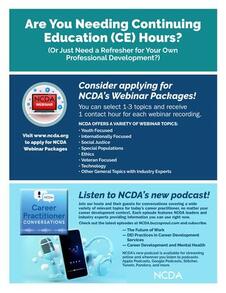 Career Practitioner Conversations with NCDA
Listen now! NCDA's new podcast is available for streaming online and wherever you listen to podcasts. Check out the latest episodes at NCDA.buzzsprout.com and subscribe: Apple Podcasts, Google Podcasts, Stitcher, TuneIn, Pandora, and more. Join our hosts and their guests for conversations covering a wide variety of relevant topics for today's career practitioner, including The Future of Work, DEI Strategies, and Personality Type in Career Planning. Each episode features NCDA leaders and industry experts providing information you can use right now. Have an idea for a podcast? Contact Melissa Venable at mvenable@ncda.org
Need Coaching Fundamentals and Applications?
Are you looking for a deep dive into the world of career coaching, from career fundamentals to models to ethics and assessment administration? Whether you are just starting as a career coach or looking to update your knowledge and skills as a seasoned professional, the new NCDA monograph, Career Coaching: Fundamentals, Applications, and Future Directions (Maietta, 2022) will support and challenge you for work in 2022 and beyond. Shop the NCDA Career Resource Store for this new publication or any of our valuable resources. Shoppers can use the code BOOK2022 to get a $5.00 discount on any purchase! Valid only until 8/14/22.
Did You Miss the NCDA Global Conference?
It is still possible to view recorded conference presentations! Register for access to the Virtual Conference and get 15 CEs at your convenience! All recorded sessions are available until October 15th for viewing. Registration for access closes September 15, 2022. Be sure to mark your calendar for the 2023 conference, "Career Development Around the World" in Chicago, Illinois, June 29-July 1, 2023.
Congratulations to the NCDA 2022 Award Winners!
In the first month of 2022, members were nominated to receive recognition for their work. Winners were recognized during the NCDA 2022 Global Career Development Conference. For more information about NCDA Awards, visit Membership: Awards.
Eminent Career Award— Marilyn Maze
Fellows (2)—Sue Pressman and John Long
Presidential Recognition Awards (3)—Melissa Messer, Charles Lehman, Cheryl Love
International Practitioner of the Year—Candy Ho
Service to International Students— Lisa Andrews
Outstanding State Divisions—California Career Development Association
Diversity Initiative —Danita Redd
Merit —Ahmed Mostafa
Exemplary Career Center—Education, Government or Business—Saudi Aramco Career Practitioner Center of Excellence (CPCOE)
Graduate Student Research Award—Phenix Culbertson
Legislative — Nick Rockwell, Legislative Aide to GT Thompson
Outstanding Career Practitioner—Heather Robertson
Career Development Quarterly Article of the Year—"Disability and COVID-19: Impact on Workers, Intersectionality With Race, and Inclusion Strategies" by Terri L. Jashinsky, Carrie L. King, Noel M. Kwiat, Brittney L. Henry, Alexis Lockett-Glover published in Volume 69, Issue 4
Career Developments Article of the Year—"Exploring the Intersection of Students' Mental Health and Career Development Needs" by Leann Morgan and Clark Maxon, Fall 2021 Issue
Career Convergence Recognition Award—"Natural Hair is Good Hair: The CROWN Act and Ending Hair Discrimination in the Workplace", by Whitney McLaughlin
NCDA Board of Trustees Service Awards—

Seth Hayden, Past President
Marty Apodaca, Trustee
Courtney Warnsman, Trustee
Charles Lehman, Treasurer
Award of the Gavel: Lakeisha Mathews, NCDA President, 2022-23
Support the Field of Career Development
More professional development is easy to be found on the website. Mark your calendar to attend a new virtual event planned for National Career Development Day, November 16, 2022.
NCDA invites Career Convergence readers and anyone in the field of career development to become members of our professional association. Benefit from all the professional development, advocacy, standards, and publications that NCDA has to offer. Visit www.ncda.org and click on Membership.
---