08/01/2021
Annual NCDA Report
By Deneen Pennington
Presidential Address

Seth Hayden, NCDA President 2020-2021, gave a state of the association address at the 2021 Virtual NCDA conference's Annual Membership Meeting. Dr. Hayden proclaimed that NCDA has had a wonderfully productive year as we recovered from the global pandemic. "As President of our great organization, I have been overwhelmed by the hundreds of thousands of hours that members of NCDA's Board of Directors, committees, councils, task forces, and commissions have devoted to making our association even better. It is with sincere gratitude to all who have contributed to NCDA's success that we share with you this Annual Membership Meeting Report ."
Active Areas of NCDA
Constituency meetings were also held during the 2021 virtual conference. Board leaders of each constituency led discussions of relevant topics to each area, presented appropriate NCDA resources, and permitted break out rooms to aid in the networking of members. An example of a resource shared is the demonstration of the new NCDA website and how the various webpages support the work of those in that constituency. Likewise, announcements of future programs, such as the Career Teaching Academy, were briefly shared.
Several committees also met virtually during the conference, such as Global Career Connections (GCC) and the Graduate Student committee. NCDA's fiscal year ends on September 30, 2021. At that time, all committees, councils, and commissions will have their annual reports posted to the Committee section of the website. Minutes of all Board of Directors Meetings are posted on the NCDA website under About NCDA for all members to review.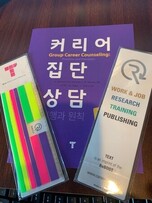 A new activity for NCDA was just announced. NCDA granted permission to Reboot Publisher, a Korean educational publisher, to translate and distribute the NCDA monograph "Group Career Counseling" in their country's language. They sent NCDA a few copies which appears nice, especially the clever bookmarks with sticky notes. NCDA still holds all copyrights and will receive royalties on the sales in Korea. Other NCDA publications will also be translated and all agree that it is a pleasant collaboration we have with Reboot.

Board of Directors Election
Per NCDA policy, the Nominations and Elections Committee selects up to three candidates per office to generate the slate of candidates for the Board. Often, these candidates are graduates of the NCDA Leadership Academy. The NCDA Annual Report includes bios of the candidates. The general election voting started after the close of the conference and continues through August 15th. Members are encouraged to vote – it is not only a benefit of membership but it is a professional courtesy to participate thoughtfully in the election of future NCDA leaders. Results are posted on the NCDA website by August 30th.

Future Initiatives
Before 2021 ends, NCDA hopes to share several more activities. Watch the website and ebulletins for information about the following:
Of course, NCDA is already planning the 2022 Global Career Development Conference in Anaheim, CA. View the invitation from NCDA President (2021-2022) Sharon Givens: ---

Deneen Pennington is the Executive Director of NCDA. She can be reached at dpenn@ncda.org
---