10/01/2020
The Vitality of Involvement in NCDA
By Seth Hayden
Professional associations provide a means of professional growth and a venue for connecting with colleagues in the field. Within this network of like-minded professionals, opportunity for engagement, involvement, and support occurs in formal and informal ways. The vitality of an association is dependent on the active participation of members in the functioning of the association. In addition, those more involved in an association indicated being more satisfied with it (Markova et al., 2013).

NCDA's Essential Work
The National Career Development Association (NCDA) offers a myriad of pathways for career professionals to influence the functioning of the association. The following indicates the mission of NCDA: "The National Career Development Association (NCDA) provides professional development, publications, standards, and advocacy to practitioners and educators who inspire and empower individuals to achieve their career and life goals" (NCDA, n.d., para. 1)
The 14 committees that are accessible for members and four constituency groups perform the essential work of the association in support of this mission. There are many examples of the critical function of these groups within NCDA and each demonstrates the vitality of involvement on the part of members.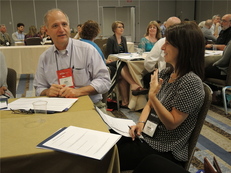 The Research committee identifies important scholarly achievements via awards and supports those performing career development research through grants. The Government Relations committee keeps an eye on the pulse of legislative efforts in career development and advocates for resources when available. The Committee on Diversity Initiatives and Cultural Inclusion provides a context for important dialogue regarding efforts to ensure NCDA and the broader profession of career development is inclusive of the diverse needs of members as well as those receiving services. The Global Connections committee providers a forum for our international colleagues, and those interested in career development globally, to connect as well as inform the association of the context of career development outside the United States. The Veterans Committee brings together professionals interesting in collaborating to develop effective strategies of supporting military-associated populations. The four constituency groups offer a venue for those working in various environments to network as well as receive targeted support for work within specific contexts such as private practice, schools, and higher education.
These are but a few ways in which these essential entities serve the mission of the association. Through personal and professional connectivity, NCDA is enlivened by the energy and ideas generating from committees and constituency groups.

Gratitude for Current Involvement
For those of you currently actively in NCDA Committees, please know that your efforts are not going unnoticed. The Annual Reports, posted on the Committees webpage, show an abundance of successfully completed tasks. Leaders of each committee are encouraged to continue their roles and seek co-chairs to provide even greater momentum.
One Leader's Example


My own experience with NCDA has been of active development and is somewhat contrary of the way I anticipated focusing my work within the association. Though inspiration moves people to become involved, my involvement preceded my inspiration to contribute to the association. My first experience in active engagement with the association resulted from outreach by the Research committee chair, Dr. Kevin Stoltz, to join the committee. As a counselor educator, I was interested in connecting with others focusing on career development research and appreciated the welcome atmosphere of the association. Being involved in this committee offered several opportunities for engagement with fellow members via meeting at the conference and collaborating on committee projects. From this experience, I was fortunate to chair the committee, which provided access to the NCDA leadership via the committee leadership calls with the president-elect. These set the tone for tremendous personal and professional development, obviously leading to even more involvement.
An Invitation to Be Vital
This article is intended to replicate the outreach by Dr. Stoltz that was instrumental in initiating my journey within NCDA. My hope is all career professionals will find some way of becoming actively involved in the association to energize their work and by extension our professional community. Whether as a member or in a leadership role, the committees and constituency groups offer a directed forum in which to tackle local, regional, and global issues within career development. From this involvement, many opportunities lie ahead for important and impactful work. If you feel called to even greater involvement and leadership roles, I encourage you to apply to the NCDA Leadership Academy. Please read more about NCDA Committees on our website, under About NCDA, and then reach out to the chairs of the committee, NCDA Board of Trustees, and me personally to discuss ways in which to contribute to NCDA!
References
NCDA. (n.d.). NCDA Mission Statement. https://associationdatabase.com/aws/NCDA/pt/sp/about

Markova, G., Ford, R. C., Dickson, D. R., & Bohn, T. M. (2013). Professional associations and members' benefits: What's in it for me?. Nonprofit Management and Leadership, 23(4), 491-510.
---

Seth Hayden, President NCDA 2020-2021, is an assistant professor of counseling at Wake Forest University. He earned his doctoral degree in counselor education from the University of Virginia. Dr. Hayden has provided career and personal counseling in community agencies, secondary school, and university settings. Dr. Hayden is a licensed professional counselor in North Carolina and Virginia, a national certified counselor, a certified clinical mental health counselor, and an approved clinical supervisor. He can be reached at haydensc@wfu.edu
1 Comment
Disclaimer: The opinions expressed in the comments shown above are those of the individual comment authors and do not reflect the views or opinions of this organization.
---