03/01/2020
Continued Growth for the NCDA Credentialing Commission, 2017-2020
By John Long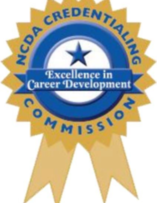 Our association has transitioned from an era of offering simple professional designations to the new millennium. This is the age in which credentials born from industry research and standards serve to strengthen the quality of present day education, training and professional practice in our field. NCDA entered this era with the birth of the Credentialing Commission and introduction of the first credentials in 2017.
Evidence of NCDA's commitment to supporting professional growth can be seen in the following key accomplishments surrounding the credentialing initiative:
1. The Certified School Career Development Advisor (CSCDA), the sixth and newest NCDA credential, has completed pilot testing and has officially launched. This certification is built from one of the goals of the NCDA Training and Education Council (TEC) - to offer a targeted curriculum and training experience for individuals focusing on career exploration, planning and readiness in the K-12 sector.
2. The credentialing program recently migrated to an enhanced digital application platform. Survey Monkey, our technology partner, launched their next generation product, SMAPPLY so credentialing applicants and staff will be using a more streamlined and intuitive platform. Anyone who started an application prior to the switch may now login and continue in the new system.
3. The Commission has made significant progress in developing and opening alternative pathways for global entities so that graduates of other training programs can apply for an NCDA credential. For example, Mindler in India has successfully created an alternative pathway, and trained individuals are qualified to apply for the Certified Career Services Provider (CCSP) credential.
4. The Commission is now wrapping up the final steps to offer reciprocity to individuals holding the recently retired Educational and Vocational Guidance Practitioner (EVGP) credential, through the International Association for Educational and Vocational Guidance. Individuals currently recognized as an EVGP will have the opportunity to transition to NCDA's CCSP credential.
5. In 2020, the first three years of the credentialing program will be complete. This marks the time in which individuals who were part of the certification pilot groups and initial credential holders will need to renew their credential for an additional three year term. Renewal requirements are posted on the website and emailed to the credential holder. For example, all individuals who have earned a NCDA credential must complete 30 continuing education contact hours (CECH) in specific career development content. The Commission will oversee a random audit of CECH for a percentage of credential holders renewing their certification. NCDA is offering training providers the opportunity to be listed within a directory of Select Continuing Education Providers. This directory, on the NCDA website, allows credential holders to easily identify continuing education activities.
6. This calendar year marks a key period of outreach and engagement for the Commission. We have set a critical goal of communicating with career services and related personnel in U.S. higher education institutions to convey the value embedded in a NCDA credential. Career counselors, coaches, advisors and consultants working in higher education are providing critical student services and support. They can enhance their professional profile and underpin the quality of the services they provide when being supported by their department leadership in earning a NCDA credential.
7. The Commission will conduct a new round of quality assurance, the second QA process since the launch of the credentialing initiative in 2017. Dr. Marilyn Maze and Dr. Tina Anctil will collaborate with SMAPPLY to retrieve, analyze and report on key indicators of reliable quality measures across all certifications in the credentialing program.
8. The NCDA Board of Trustees has embarked upon a multi-year strategic plan. The Commission will contribute needed data, outcome measures and recommendations in support of this vital strategic planning process. As part of the Commission's long standing spirit of collaboration, engagement and communication, regular discussions with Dr. Seth Hayden, the NCDA President-Elect and Board liaison to the Commission, will continue throughout 2020 and beyond.
9. At the close of 2019, NCDA had 1640 credential holders on record. A list of those who obtained a credential is posted on the website so employers (and potential employers) can validate an individual's certification status.
10. NCDA and the Credentialing Commission remain grateful to members who agreed to be part of pilot groups for our six certifications. Their participation allowed the credentialing initiative to become a reality. And we owe a tremendous debt of gratitude to credential holders who have served as application reviewers, which involves significant training and commitment.
Need More Information?
The NCDA credentialing website at www.ncdacredentialing.org houses all the details for applicants and holders. A thorough review of each webpage, particularly for the credential being considered, will answer most questions. Occasional articles such as this one in the NCDA web magazine, serve to answer the most common questions (such as "Which credential should I apply for?") and provide another source of updates.
An ongoing question fielded by members of NCDA's Board and credentialing staff concerns the differences between the Global Career Development Facilitator (GCDF) credential and a certification earned through the NCDA Credentialing Commission, such as the Certified Career Services Provider (CCSP). The most concise answer is that many years ago the GCDF certification program was purposefully built upon NCDA's Facilitating Career Development (FCD) curriculum (formerly known as the Career Development Facilitator training). Those that completed this training, and had the required education and work experience, could then complete an application to be granted the GCDF credential offered by the Center for Credentialing and Education, Inc. (CCE). The GCDF was marketed by NCDA (as a potential outcome of those completing a recognized FCD/CDF training program), yet the GCDF was never a NCDA credential. Now NCDA offers true competency based credentials backed by the research, ethical guidelines and standards of practice developed and advanced by NCDA, which is a logical outcome of NCDA training programs.
The Commission will once again have a Q&A table at the 2020 NCDA Global Career Development Conference in Minneapolis this June and will be hosting a presentation session to connect with and inform members interested in making 2020 the year they earn a NCDA credential.
---

John E. Long, Ed.S., BCC, CMCS, is a professional career coach, program facilitator and university instructor. His private coaching practice, Two Roads Resources, Inc., has offices in Atlanta, GA and Jacksonville, FL. He is the author of Career Judo – The Martial Art for the Mindful Career (2017). John's work with students and clients takes a strengths-based approach blended with elements of positive psychology and solution focused change. John currently serves on the Credentialing Commission and the Committee on Diversity Initiatives and Cultural Inclusion for the National Career Development Association (NCDA). He also serves as President Elect of the Florida Career Development Association. He can be reached at coach@exploretworoads.com
1 Comment
Disclaimer: The opinions expressed in the comments shown above are those of the individual comment authors and do not reflect the views or opinions of this organization.
---