12/01/2018
NCDA Awards Celebrate the Achievements of its Members: A Call for Nominations 2019
By Sheri Young
There is no better way to create momentum around this year's NCDA member awards then to feature some of our past winners. Previous award winners can be viewed on the NCDA website, under Membership: Awards. Here we will feature past Graduate Student Research Award.
Celebrating Past Winners of the NCDA Graduate Student Research Award
The Graduate Student Research Award was established to honor graduate students who undertake exemplary research addressing topics related to career information, career development and career planning. This award includes a $500 grant to defray costs for work on a doctoral dissertation or master's thesis approved by the student's institution. The NCDA Awards Committee in collaboration with a representative from the Research Committee select a winner each year. In this article, winners from 2018, 2017 and 2016 will share what winning this award has meant and how it has influenced them. All three recipients emphasized the confidence-building, networking, idea-sharing opportunities that winning this award has afforded them.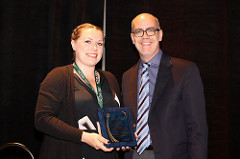 2018 Winner of the Graduate Student Research Award - Kristin Wakefield, Ed. D
Kristin Wakefield, Ed. D. received her doctoral degree from Northeastern University. Currently, Kristin is a training manager for Southcoast Health, responsible for working with the Human Resources department and management throughout the healthcare system to understand their needs, develop training programs, adapt existing curriculum and deliver training in a fast-paced, high-volume environment across a variety of functional areas and various locations throughout Massachusetts and Rhode Island.
Kristin won the 2018 Graduate Student Research Award for her research proposal on Stakeholder Engagement: A Case Study of a Long-term Partnership Between a University and a Non-profit Organization. Her research focuses on the best practices for partnership, collaboration and engagement between a university and a non-profit organization. Possible implications toward the improvement of the current and future state of higher education, the workforce and the community are also explored.
When asked what this award means to her, Kristin stated, "The Graduate Student Research Award validates my accomplishments as a scholar-practitioner. Personally, this recognition assures me that I am on the right career path and that the years of investment I have dedicated to this body of work has been well worth it." She goes on to describe the motivation this award provided her to continue her "journey as a life-long learner and educator." Kristin hopes her work influences others to consider innovative forms of education that bring multiple stakeholders together to solve real-world problems. "To those stakeholders who believe in the collective value of community-centric, project-based learning and make the choice to contribute resources that sustain this approach, thank you for your continuous impact on society, and for all the ways you have encouraged me to be a better person," concludes Kristin Wakefield, the 2018 NCDA Graduate Student Research Award winner.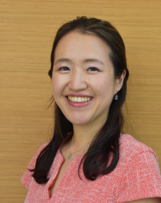 2017 Winner of the Graduate Student Research Award - Gaeun Seo, PhD, CCSP, GCDF
Our next featured winner is Gaeun Seo, an education manager for Weill Cornell Medicine at New York-Presbyterian in the Department of Healthcare Policy & Research. In her role, Gaeun is committed to developing career support systems to meet unique career needs of graduate students and international students, helping their career decision-making processes. She also specializes in conducting practitioner-engaged assessment research that continually enhances career development practice inside and outside of academia. She is interested in a variety of research topics including career development theories (e.g., CIP, SCCT), learning outcomes assessment, leadership diversity, and human resource development.
Gaeun's award winning research while at the University of Illinois, Urbana-Champaign, was entitled Doctoral Students' Career Decision-Making Processes: Comparing Faculty and Non-Faculty Careers from Socio-Cognitive and Contextual Perspectives. Gaeun describes winning the NCDA Graduate Student Research Award as "very meaningful to me personally and professionally." She learned that she was selected for the award during her final semester as a doctoral candidate. "Like all other PhD candidates, it was not an easy semester for me and I was pregnant, working as a research assistant, and applying for multiple jobs." Gaeun describes the experience as a tremendous boost to her confidence in her research skills, "a kind of reassurance that I was doing something great!" She goes on to describe how excited and supportive her mentors were when they learned the news, helping her to realize she was not alone.
In Gaeun's own words, "my dissertation was an important journey for my career since I have been working with graduate students including PhD and MS students in terms of career development after my PhD. All the stories that I learned from my dissertation indeed helped me move forward when I am having a rough day because I know what I do matters to my community! I am so grateful for the support that I received from NCDA and hopefully I can continue to contribute to NCDA throughout my career journey!"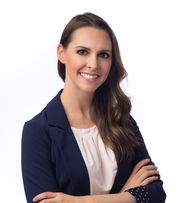 2015 Winner of the Graduate Student Research Award - Amy Thul-Sigler, Ed. D., CMCS, GCDF
Our 2015 winner, Amy Thul-Sigler, is an active staff and faculty member at Penn State University with roles as a Member Board of Directors - The Graduate School and assistant teaching professor in the department of Health Policy and Administration (HPA). Amy teaches residential and online pre-internship, internship, and other HPA courses, developing and maintaining relationships with external internship sites for online and residential students. Her role also includes advising and mentoring students on matters related to internship and career development. As the past assistant director of Alumni Career Services, Amy developed and delivered programs, events and services supporting the career management of all Penn State alumni including career counseling, workshops, and seminars on a variety of career related topics that are delivered in-person and on-line.
Amy won the NCDA Graduate Student Research Award for her work titled The Effects of a Values-based Career Intervention on the Career Uncertainty Scores of Penn State Alum. Her concerns regarding an unstable economic and employment period for an increasing adult population seeking career counseling drove her interest in this topic. Amy focused her research on exploring the impact on one's ability to make career decisions when considering life roles, burdens, and available resources. She has also written articles for Career Convergence including "Cultivating a Willing Readiness to Reflect: Interventions That Facilitate Making Career-Life Decisions," co-authored with Edward Anthony Colozzi in 2016, and "Focusing on Career Development with Inmates" in 2015.
When asked what winning this award meant to her, Amy concurred with our other featured recipients that it provided an incredible boost to her confidence and tangibly demonstrated that she was capable of producing quality research that made an impact in industry. "Sometimes, you can't help but question… does it matter? When I won this award, I realized, hey, I can do this! I can do this at a professional level."
CALL TO ACTION: Nominate Yourself or Someone Else for NCDA's 2019 Awards
The three inspiring spotlights presented are a few among many NCDA winners. Who will be our 2019 winners? You can be a part of answering that question by reviewing the 11 award categories for individuals and groups. Visit the NCDA Awards webpage for details on the categories, process, and nomination forms. Nominations are due by January 31, 2019.
---

Sheri Young, Ed.D. is the Dean of Experiential Education & Career Services at Johnson & Wales University. Her 25-year career spans the recruitment of international students, alumni relations, and career services. In her role, she is responsible for departmental operations as well as the outcomes and assessment system supporting almost 3,000 internships each year. She is the past president for the Rhode Island Career Development Association. She has served on the NCDA Awards Committee for four years with two years co-chairing the committee. She can be reached at Sheri.Young@jwu.edu

2 Comments
Disclaimer: The opinions expressed in the comments shown above are those of the individual comment authors and do not reflect the views or opinions of this organization.
---