02/01/2018
Leading the Way by Integrating Theory, Research, and Practice
By Paul Timmins and Mary Ann Powell

Everyone working in the field of career development is invited to attend the 2018 Global Career Development Conference in Phoenix, Arizona, June 21-23. Convened by the premier career development association for over 100 years, the NCDA conference is an annual opportunity to learn and earn continuing education units, network, meet leaders in the association and the field, explore an exciting city, and gain significant professional and personal resources for another year of service to clients, students, and ourselves. The collaborative effort of many individuals and organizations makes this three day event (or four, if professional development institutes are added on) full of presentations, keynote sessions, constituency and committee meetings, receptions, and exhibitor interactions. Full details are posted on the NCDA website – visit www.ncdaconference.org.
Paul Timmins, NCDA President (2017-18) chose the conference theme, "Leading the Way by Integrating Theory, Research, and Practice."
"For more than a century," explains Timmins, "NCDA has been at the heart of the career development profession. Our members have developed the theories that guide our work, conducted research to inform effective practice, and inspired and empowered individuals to achieve their career and life goals. We'll be honoring this history and looking ahead to our future with our conference theme."
Gregg Levoy, author of "Vital Signs: Discovering and Sustaining Your Passion for Life" will address the opening general session on Thursday, June 21st. His new book "Vital Signs" will be available for purchase at the conference.
Legends of the career development profession will share the stage during the second keynote session for a conversation on how career theory guides practice. Each career theorists will discuss their work, specifically:
Dr. Jim Bright - Chaos Theory of Careers
Dr. John Krumboltz - Happenstance Learning Theory
Dr. Janet Lenz - Cognitive Information Processing Theory
Dr. Mark Savickas - Career Construction Theory
Dr. Jane Goodman – panel moderator
Overall NCDA received 210 presentation proposals, 55 roundtable proposals, 12 career talk proposals, 6 poster session proposals, and 11 Professional Development Institute proposals. From these, the conference program committee, chaired by Mark Danaher, had the difficult job of selecting the most valuable and unique to be a part of the 2018 conference.
Again NCDA is able to offer a worthwhile selection of Professional Development Institutes (PDIs) for a more in-depth look into specific career topics. PDIs are optional workshops requiring an additional registration fees for additional CEUs. The options this year are listed here, with complete details posted online.
Wednesday, June 20, 8:00 – 5:00 pm
PDI #1 Foundations of Career Construction
PDI #2 A Systemic Teacher Centered Approach to Career Development
PDI #3 Effectively Guiding Students towards Obtaining and Managing Their Ideal Federal Careers
PDI #4 Theory, Research, and Practice: Chaos Theory of Careers Interactive Training
Wednesday, June 20, 1:30 – 5:30 pm
PDI #5 The Life Design Group: Career Development through Career Construction Counseling
PDI #6 Narrative Assessment Theory and Practice: Skill-Building Toolkits for Real World Applications
PDI #7 Group Career Counseling: Principles and Practices
PDI #8 Become a Positive Psychology Ambassador
Not only does the conference offer best practices at each session, but NCDA also celebrates members who daily practice the best of what our field does by inspiring and empowering others. The member awards are announced throughout the conference events, giving everyone a chance to honor those in our field who are working for what we all believe in. The full list of winners will be available in the conference program book as well as the fall issue of Career Developments print magazine.
Visit Phoenix, the city's website for tourists, describes the conference destination as "America's fifth-largest city (which) still has cowboys and red-rock buttes and the kind of cactus most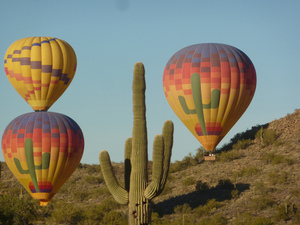 people see only in cartoons. It is the heart of the Sonoran Desert and the gateway to the Grand Canyon, and its history is a testament to the spirit of Puebloans, ranchers, miners and visionaries." Conference attendees are encouraged to enjoy the city, particularly such popular attractions as South Mountain Park and Preserve, Tempe Town Lake, Camelback Mountain, the Heard Museum, Desert Botanical Garden, Heritage and Science Park, the Musical Instrument Museum, and the Phoenix Zoo. Of course there is always the option to drive to the Grand Canyon (about 3½ hours away). "The sun shines on Phoenix during 85 percent of its daylight hours (more than 300 days per year). The low humidity makes summer heat more comfortable than in other hot climates." So head outdoors for golf, tennis, hiking, cycling, mountain biking, rock climbing, horseback riding or "soar above the desert plateau in a glider, sailplane or hot-air balloon!"
Mary Ann Powell, Conference Director, proclaims, "NCDA annual conferences give us the opportunity to learn from each other, share ideas and best practices, consider new perspectives, and connect with colleagues and friends. We look forward to seeing you in Phoenix!" Powell also reminds everyone to "Enhance and continue the conversation through social media using the hashtag #NCDAPhoenix2018."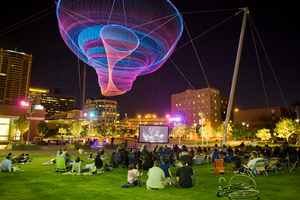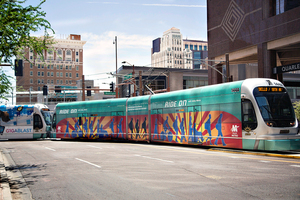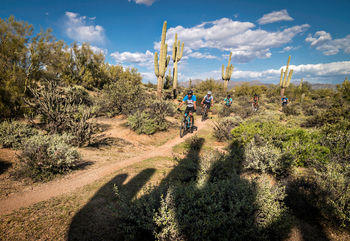 ---
Paul Timmins is the NCDA President.
Mary Ann Powell is the Conference Director.
---